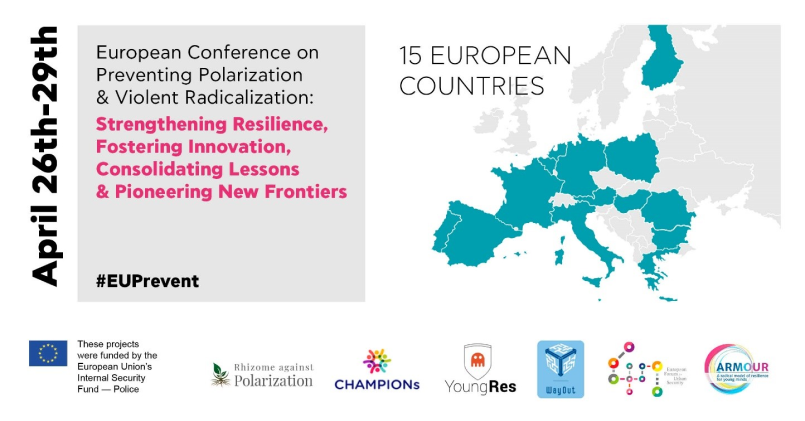 20 Apr

PRESS RELEASE: Preventing Polarization and Violent Radicalization – European Conference (#EUPrevent)

Bringing together the expertise of researchers, practitioners, and policymakers, #EUPrevent addresses current challenges of radicalization and polarization in Europe and provides suggestions for a way forward in policy and practice.

Between April 26th and 29th, 2021 the conference organized by 6 ISF-P European Commission funded projects – Rhizome against Polarization, CHAMPIONs, YoungRes, WayOut, ARMOUR, Bridge, pools the knowledge of over 30 organizations across Europe from 15 different countries. The event is an opportunity for experts and practitioners to share best practices and develop strategies to tackle polarization and extremism.

The online event features six panels, eleven practical workshops, practitioners' forums and Special Sessions on the current state of extremism, polarization and violent extremism.
Glimpses into the Line-up
Day 1 brings together reflections on "Opportunities, Challenges & the Road Ahead" in preventing polarization and radicalization in Europe today. Speakers on the first day include Sylvia Bottarin, Migration and Home Affairs DG, European Commission, Moussa al-Hassan Diaw (Derad EU, Austria), Luca Gervasoni Vila (NOVACT, Italy) and Kai Brand Jacobsen (PATRIR, Romania). Starting from their broad experience in the field, they reflect on the scope, dynamics and challenges in responding to radicalisation and extremism in Europe. They consider different contexts but share the grass-roots approach and community commitment.
Day 2 and Day 3 feature eleven workshops where participants discuss practices in countering polarization and radicalization, drawing on the lessons of all ISF-P projects. The smaller setting allows participants to interact with the speakers and presenters more directly. The workshops are held in parallel sessions and require registration.
Day 2 focuses on "Lessons from the Field" and includes five workshops on relevant topics: youth engagement (where experts from CULTURES Interactive discuss game-based learning and prevention work on social equality) and education (where the ARMOUR project presents tools for building individual resilience against polarization and violent extremism).  In the city-based approaches workshop, practitioners look at how cities can address extremism and the importance of collaboration across sectors. In the gender session, experts from the field focus on the role that gender plays in extremist narratives. Representatives of TechSoup and ZettaCloud will present plug-ins to identify fake news and online gaming as tools for prevention in the Tech session.
Day 3 zooms in on improving response and prevention practices and the role of innovations and tools in this context. Six workshops address relevant topics of the field such as youth policy covered by Elena Kundrat and Elisabeth Nagy from Südwind who will present tools that put youth at the forefront of radicalization, hate and extremism. In a similar vein, OSCE's Orlaith King will reflect on the Live Initiative, a capacity-building initiative tailored to youth against extremism. In the monitoring, evaluation and learning session, experts will discuss the importance of feedback loops to improve policy and practice, among them Marzena Kordaczuk-Was, of the Polish Platform for Homeland Security (PPHS). In the session on city-based approaches, participants will hear about the practices of municipalities to prevent and mitigate polarization described by representatives of the City of Rotterdam and the City of Leuven, among others. Next to web-based tools (such as the firstlinepractitioner.com website) which will be presented by Florian Huber (SYNYO GmbH), Cultures Interactive's Harald Weilnböck will discuss inter-agency cooperation as good practices in deradicalization.
Policy & Practitioner Forums follow the Workshops on Day 2 and 3, where participants can connect, discuss lessons learned and develop recommendations for efficient response and prevention mechanisms to tackle radicalization and polarization on the national and European level.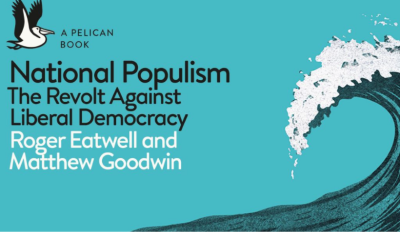 A special afternoon session on Day 3 features Roger Eatwell and Matthew Goodwin, authors of National Populism: The Revolt Against Liberal Democracy (Penguin, 2015), a book reflecting on the road that led to the current developments in radicalization and polarization. Their talk explores the causes and long-term conditions that triggered the (new) rise of national populism and challenges some of the established views on contestations of liberal democracy.
Day 4, the last day of the conference, sees the consolidated lessons learned and recommendations for future projects and policy development presented by representatives of the 6 ISF-P European Commission funded projects.
Register and stay updated:
To attend the different sessions, participants need to register: https://www.firstlinepractitioners.com/european-conference-2021/
Full program here:
https://www.firstlinepractitioners.com/wp-content/uploads/2021/04/European-Conference-Conference-Programme.pdf
Follow us on https://twitter.com/EU_CHAMPIONs or join our facebook community https://www.facebook.com/ChampionsEUProject
Contact:
General queries: euprevent2021@projectchampions.eu
For further comments: Kai Brand Jacobsen, PATRIR jacobsen@patrir.eu, +40752295555