02 Apr

Join our European Conference on Preventing Polarization & Violent Radicalization!

The conference will analyse the current challenges and threats of polarisation, radicalisation and violent extremism in the European Union and beyond. Building on the outcomes of 6 Internal Security Fund Police (ISFP) projects, the sessions will furthermore highlight opportunities, strategies and tools for strengthening resilience, fostering innovation, consolidating lessons-learned and for pioneering new frontiers.

We a looking forward to meeting you at the conference!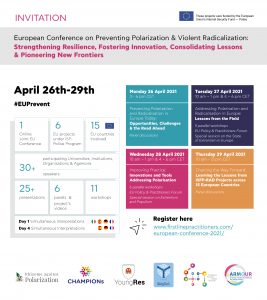 See the full program here (PDF): Joint RAD-Projects Conference program April 2021 
Or find out more on: First-Line-Practittioners.com